The Best Anti-Aging Skin Care Routine 2021
Everyone wants to be wise, no one wants to grow old. Let's face it. It holds true for each one of us, across the world, especially women. The fairer sex spends a significant amount of time in grooming and looking beautiful. From the time when teenage sets in, every girl makes a conscious effort to look her best, at all costs, at all times. Regular visits to beauty salons start. From trimming eyebrows, facial, waxing to manicure and pedicure, you name it and a woman has done and loved it! There is no telling the amount of money a woman, ordinarily, spends on cosmetics. Lip colors, nail paints, concealing ointment, face powder, mascara, eyeshadow are some of the very basic things you'll find in a woman's vanity case. There are countless other cosmetics that are available in the market, just so a woman could look the most beautiful she can!
However, as years slip by, the make-up layers thicken. Every dinner or a party brings with it a convincing reason to add a dash of contour-definer or dab extra foundation to hide a spot or two. Women past 30 become extra conscious when stepping out for big nights. They make time for a beauty salon visit, no matter how hectic their schedule is. After all, who wants to give up on the radiance of youth?
What if we told you that you wouldn't have to bother squeezing a salon visit before a cocktail party?
What if we share a secret that will free you from all the layers of make-up that you put on to hide the age spots?
What if we told you that your age doesn't matter if you really do want to look youthful and radiant?
What if we convince you that you are just as young as you look and feel and that you truly can defy aging?
Well, no need to pinch yourself, for every thing that we mentioned above is possible. If you start taking care of your skin on time and stay true to an anti aging skin care routine, you can easily keep those advanced years waiting!
Let's take you through some of the most effective anti aging skin care routine essentials and you will believe every word of what you just read.
● Steps For The Best Anti Aging Skin Care Routine
Step#1. Facial Cleansing Is The First Step In Anti-Aging Skin Care Routine
It all begins with cleansing the face –
That's absolutely true. Actually, it should be an important part of every woman's beauty regime, irrespective of age and profession. Even if you stay at home and you go around running errands, small particles of dust and pollutants gather on your skin and settle in, causing infections.
Facial cleansing is a must before any kind of make-up. It is definitely needed even before you moisturize your skin. Of course, one must clean their face before hitting the bed, as it allows the skin to breath freely and regenerate, naturally.
Why Is Facial Cleansing So Important
It is the first step in anti aging skin care regime for many reasons, some of them are listed below:
It purifies the skin, removing all the dirt, toxic particles and pollutants, basically nullifying all chances of pimples and skin infections
It clears out the skin pores so that the skin can breath freely.
Since it removes dirt particles, even if you do put make up on, there isn't an accumulation of cosmetics and dust, a prime cause for pimples and blemishes.
Natural Facial Cleansing Agents Are Right For Anti-Aging Skin Care Routine
While there are countless cosmetic brands that are offering anti aging packages, which include facial cleansers too, there is nothing to match what nature has to offer. It is so because of a simple reason that nature knows your skin best. It knows your ideal pH balance and understands just the amount of moisture your skin needs. No cosmetic in the world can work miracles for your skin like nature.
Some of the most amazing natural facial cleansing agents are listed below. You will be surprised how beautifully they get to work without any side effects, just to keep your skin young:
Dairy products for daily cleansing
Milk, curd and fresh cream, nothing can beat these natural cleansing agents. They don't disturb the pH balance of your skin and moisturize it as they cleanse it to the deepest pore.
Just apply them directly to your face and neck in the morning and wipe off gently with a cotton ball or just wash away for a skin that is well on its way to a youthful sheen!
Your skin needs oils as much as your hair
Olive oil, avocado oil, coconut oil, you have long been using them for nourishing your hair. Now try them to cleanse your skin. A lot of skin aging happens because sebaceous glands reduce oil production, leading to dryness and saggy skin. That's the reason why oils are so important for a youthful glow.
How to use oils to cleanse your skin
Just apply some drops of an oil of your choice and then use gram flour to scrub it gently. It also gently exfoliates removing those dead cells and once your are done washing your face you will have a resplendent skin, already!
Imagine, this is just step one of anti aging skin care routine and the wonders are already beginning to show. Let's now move to the second step of anti-aging skin care routine.
Step#2. Anti Aging Skin Care Involves Moisturizing Your Skin Generously
Moisturizing your skin is like giving it healthy food. It is like feeding it with essential nutrients that keep it young and plump. Therefore, moisturizers can never be given a miss in anti aging skin care routine.
There are several natural moisturizes that are known for their miraculous effects. When put together, they make for a perfect anti aging formula. Given below are the ingredients and the easy steps with which you can make your own anti-aging moisturizer.
Homemade Moisturizer For Daily Moisturizing
Ingredients (to make half a cup of moisturizer):
¼ cup Almond oil
2 tablespoons coconut oil
2 tablespoons beeswax
½ teaspoon Shea butter
Why These Ingredients Are Good For Moisturizing And Defying Aging
Almond oil – It is a well-known emollient which means it soothes the skin, making it soft and butter smooth by attracting all moisture that it gets from surrounding environment. It is also known for its rejuvenating effects on the skin and even improves complexion and evens out the skin.
Coconut Oil – It is packed with anti-oxidant properties, which means it fights the free radicals that feed on our cells, thus saving the skin from aging. It aids cell formation and is an effective moisturizer.
Beeswax and Shea butter – These ingredients have anti-inflammatory benefits. They reduce the chances of skin infection and hence, keep it away from aging.
Vitamin E – It is a high dose of anti-oxidants that are needed by the skin cells to stay healthy.
You could add a dash of essential oils or may be rose water for a pleasant aroma, though none of these have a bad smell.
Method To Prepare Your Own Anti Aging Moisturizer
Put all the ingredients in a clean and dry glass jar.
Fill a vessel with water that reaches up to a level of 3 to 4 inches. Bring it to simmer.
Now place the glass jar in the vessel. Let it stay there till all the ingredients have melted.
Once the blended ingredients have melted, pour them into another glass jar. Leave it at room temperature as the mixture hardens and develops a creamy texture.
Once that is done, store it in a cool place.
Apply it in the morning after thoroughly cleansing your face. Also, make sure to apply it before going to sleep.
Start it today to keep your tomorrow far, far away!
Step#3. Regular Application Of Anti Wrinkles Face-Masks Is A Must, Too!
So, cleansing and moisturizing are the two basic steps in daily anti aging skin care routine. However, we must also draw benefits from these amazing face-masks that keep your skin free from wrinkles and blemishes.
The Perfect Anti-Aging Yogurt Mask For A Youthful Glow
Ingredients:
1tablespoon yogurt
1tablespoon honey
1/4th banana
½ tablespoon orange juice
Method of preparation:
Mix all the ingredients well in a cleaning bowl.
Add water if the mixture is too dry.
Now apply it evenly to a properly cleansed face and neck.
Wash it off after 15 minutes.
It is sure to leave your skin glowing and plump. Try it at least once a week. Follow it up with a cup of green tea and a nice book to relax yourself, for best results!
The Amazing Anti-Blemishes Skin Tightening Cucumber Face Mask
What Ingredients to collect:
Handful mint leaves
Half a cucumber
Egg white
Method of preparation
Put mint leaves and cucumber in a blender and mix well
Add 1 egg white to this mix
Apply it evenly on a perfectly cleansed face.
Leave it on for about 10-15 minutes. Wash it off with water to reveal a younger, tighter skin, thanks to the protein in the egg white and the hydrating effect of cucumber, which also works on the wrinkles.
Use this mask once in a week. It is a perfect treat for your skin on a lazy Sunday!
The Magical Anti-Wrinkles Egg & Honey Face Pack
Take these Ingredients:
One egg white
1 tablespoon honey
sandalwood oil
Fennel essential oil
Method of preparation
Take a clean mixing bowl.
Take 1 tablespoon honey in it. Now add an egg white to it.
Mix it thoroughly and add the oils too
Now, apply it on your face and neck.
Leave it on for 20 minutes.
Wash it off with cold water and pat your face dry with a soft face towel.
Take a look into the mirror and greet a younger you.
Honey clears out your skin, removes all the toxic agents and egg protein tighten your skin, making it look young and radiant. This anti-aging face pack can be applied twice a week.
Step#4. Regular facial massage for skin blood flow !
Facial massage helps promote healthy skin while relaxing your facial muscles. It has a relaxing and rejuvenating effect, helping you look and feel better. Whether you want to use facial massage purely for relaxation or to treat a specific condition, there are plenty of techniques to try.
Facial massage is a technique that involves the use of hands or a tool to gently massage the facial skin. It helps in increasing blood circulation, relaxes facial muscles, decreases puffiness and offers a healthy glow. Skin care experts recommend a facial massage 2-3 times a week for glowing skin.
Does facial massage really help?
"With the right technique, a facial massage may improve lymphatic drainage, aka 'de-puff' the skin," said Dr. Emily Wise, board-certified dermatologist and founder of DermWellesley in Massachusetts. "Massage in general can also help to improve circulation and stimulate blood flow and may lead to a temporary more volumized and 'glowy' appearance."
"Certain facial massage techniques can be used to sculpt the face by stimulating the muscles, ligaments and underlying tissues, which activates collagen production," Said Marino, medical aesthetician and founder of The LA Facialist, "Other techniques will remove lymphatic fluid from the tissues, which will detoxify the skin, reduce inflammation and improve facial contours."
Is it OK to massage your face everyday?
When the muscles on your face tense up, they are more likely to harbour wrinkles, which is why they need to be massaged out regularly. "All it takes is 1 to 2 minutes per day to relax," says Baba, an aesthetician with The Spa at the Four Seasons Hotel Toronto. However the length of time for a facial massage required depends on your skin type. For oily and acne-prone skin, it's best to keep it to under 10 minutes. If skin has a normal to dry complexion, no longer than 20 minutes is necessary (too much stimulation can lead to breakouts).
Skin care experts advise on a facial massage at home 2-3 times a week. However, gentle massaging everyday for 5-10 minutes does no harm to your skin. It helps in promoting blood circulation and fading fine lines over time.
How To Do Facial Massage
A lot of L&L Skin's customers have been enquiring about the right way of doing facial massage. So consider this as your crash course on how to do facial at home. The first step is to prep your skin:
Cleanse your hands and tie back your hair.
Wash your face with lukewarm water and pat dry.
Moisturize your skin.
Choose an oil for your skin.
Steam your face to soften the pores and to help with easy penetration of oils.
Use your fingers in circular motion to gently massage your face. You can use deep and stimulating motions if you are looking to firm your skin.
In case you have sensitive, acne-prone or oily skin, stick to light pressure.
You can consider using skin care gadgets for massaging like a metal roller or jade roller if you're comfortable.
Please check the video below to follow the facial massage steps:
How often should face be massaged?
Skin care experts advise on a facial massage at home 2-3 times a week. However, gentle massaging everyday for 5-10 minutes does no harm to your skin. It helps in promoting blood circulation and fading fine lines over time.
Is there any side effects of face massage?
Warning: Although there are several subjective benefits with face massage, there may be immediate side-effects, such as erythema (redness) and edema, as well as delayed problems, such as dermatitis and acneiform eruption, in about one-third of patients.
Is there any facial massage tools recommended?
L&L Skin MIO2 Face Lifting Tool & Guasha Facial Massager is an ergonomic designed face massager tool for skin tightening and face lifting. It's new shape works better for lifting and slimming your facial skin and helps you to make full use of your expensive serums and moisturizers. The MIO2 is a unique sonic facial massager that helps to restore glow and firmness to the face when used with any massaging serum, eye cream, or your favorite moisturizer. It helps to refresh your face by targeting the most problematic areas, including your eye area, brows, lip lines, cheeks, and chin.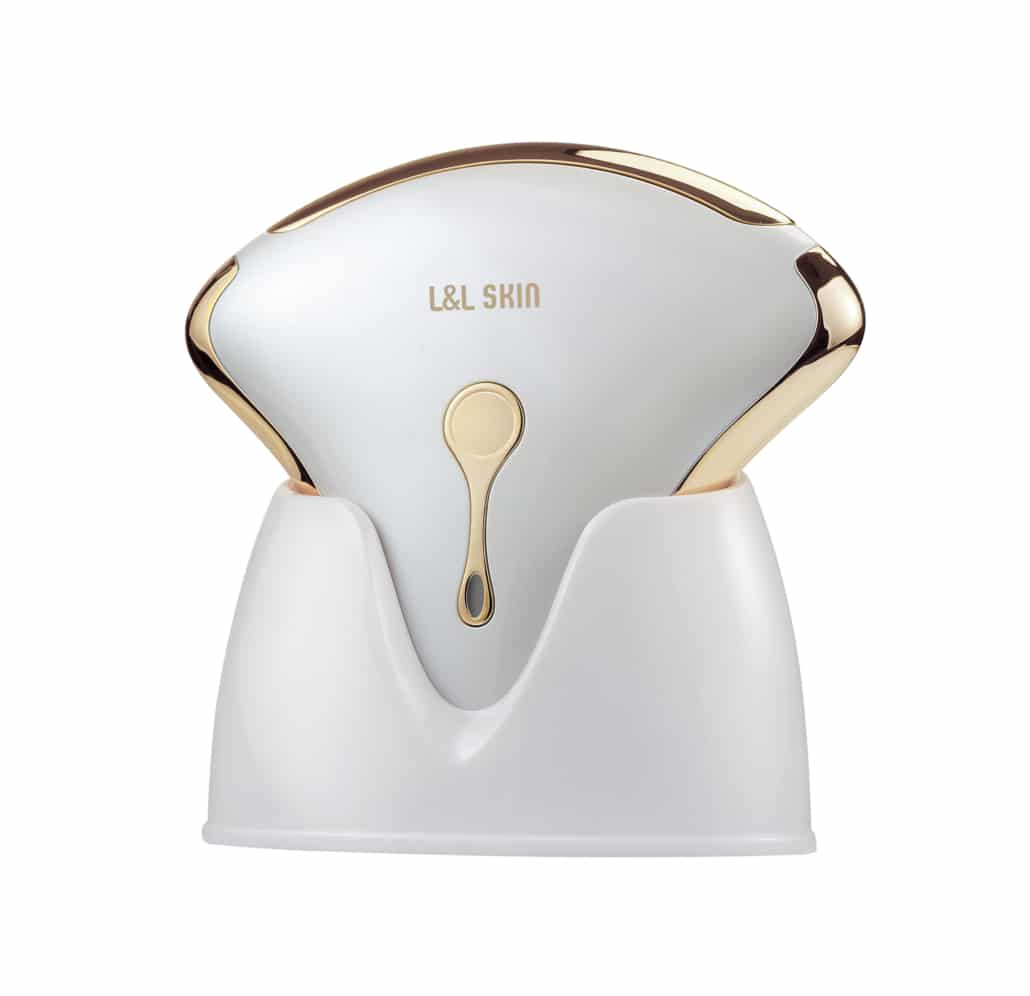 We now know that aging will maintain its distance from us if we adhere to the best anti-aging skin care routine and start on time. Other changes that one needs to make are important, too. For example, no smoking and limiting our consumption of alcohol can contribute immensely to a younger, brighter skin. You can also add meditation and face yoga or face exercises to your anti-aging skin routine to take control of your thoughts and make them positive. It is all about how much you love yourself.
If you truly do take care of it, your skin will reveal just how much you love it and not the years!
| Anti-Aging Skincare Products from L&L Skin